Vacation 2016
Credit--> Music by the Eagles, Take It Easy(1973)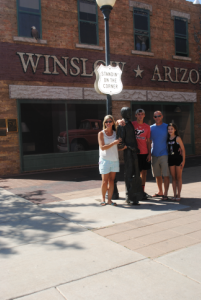 Roadtrippin with the Lee Family/From AL to AZ- 7 DAYS
Day 1
We left Spanish Fort, AL at 4 am on Friday, May 27. We drove 16 hrs and spent the night in Amarillo, TX. We stayed at a Courtyard Marriott in Amarillo and ate at The Big Texan. It was delicious and the resturaunt had really unique, entertaining things to do while waiting to be seated.
Day 2
We left Amarillo TX around 6 a.m. We stopped by to get a few pictures at the Cadillac Ranch beside Route 66. It is a really cool pic opportunity if you are into that. We stopped at the New Mexico State line (we gained an hour here)to get another cool picture opportunity as well as some brochures from their rest area. Driving across New Mexico wasn't boring at all. The landscape changed from mile to mile. It was beautiful! We stopped in Albuquerque, NM for lunch. (FYI-Don't eat at the recommended Cecila's that Food Network recommends unless you like grumpy people, overpriced food, and nasty restrooms!) Back on the road after lunch we drove to the Arizona state line (we gained another hour here)for another state line pic. Next we stopped in Winslow, AZ for another photo at the Route 66 hwy sign and had our picture taken at the corner of Winslow, AZ. It's a cool place to stop and "Take it easy!"(Music shared in the audio above by The Eagle, 1973.) Get you an Italian vanilla soda from the cute diner across the street. We drove into Flagstaff, AZ where we stayed most of our vacation. It is a nice college town in the midst of a lot of things to do and see. The first night there we ate at the yummy Fat Olive.
Day 3
We bought our North, South Rim Grand Canyon tickets at a Chevron in Valle on the way up to Grand Canyon to avoid the long lines going into the Grand Canyon National Park. The pass was $30 and good for 7 days. Get ready for your first look into that Grand Canyon, it is an awe inspiring unforgettable moment, take it in. Don't rush. (I shared a video of my first moment taking it in below.) The same day we seen The Grand Canyon South Rim and stopped at the sites, seen elk on the way. We drove up to Page, AZ to see Horseshoe Bend, beautiful very different scenery- worth the extra 3 hr drive. While you're there make an appointment to see Antelope Canyon, it was on my list but we ran out of daylight. It's 20 an hour for the tour but the pics are unbelievable. This was the only thing I didn't get to see on my list. This is right beside the AZ, UT line. There is no charge byt there is quit a walk. We drove back to Flagstaff and seen the Wetapki Ruins on the way in, Volcano crater is next to the ruins. That night we ate at BunHuggers. (It was ok.)
Day 4
We drove to Sedona and hiked into the Red Rock National Park. We were going to Natural Slide Rock but the locals had it wrapped up for Memorial Day when we were visiting. This was a beautiful city to see. We stayed there half a day and then rode back to Williams to Bearizona. It is a drive through an animal park. It was cool but I'd rather have spent my day in Sedona. Not to mention it was 77 dollars and the animals are kept in enclosures. It was okay but not worth 77 in my opinion. That night we ate in Flagstaff at The Lumberyard,which was amazing food! I highly recommend this place.
Day 5
We left at 6:30 and drove to Nevada to see Hoover Dam. The ride was again spectacular scenery. We took the Powerplant Tour. This was 55 dollars for four of us. You don't have to take the tour but the guys really enjoyed that part. Lake Mead is beautiful blue green water. It was a sight to see! Then we drove to Las Vegas, which was about 30 minutes away just to see the strip.
Day 6
We left at 3:30 AZ time (which is 5:30our time) and drove out of AZ into NM and went south of Albuquerque to see the Carlsbad Caverns. It was 4 hrs out of the way but well worth it. It was a steep hike down into the cavern but a sight to see. We headed back out and stayed in Abilene for the night.
Day 7
Left Abilene at 5:30a.m. and made ithome around 7p.m. that night. It was trip to remember. Below are a few pictures and video from out trip. Enjoy!
Video taken by Angela Lee, Carlsbad Caverns, New Mexico.
Roadtrippin 2016
Alabama to Arizona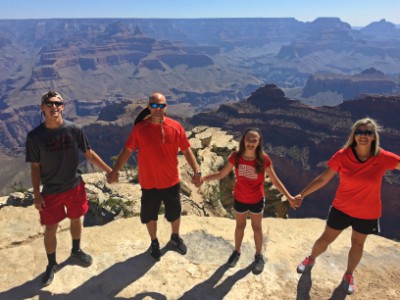 Grand Canyon National Park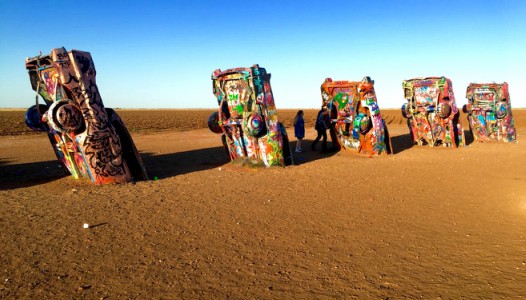 Cadillac Ranch in Amarillo, TX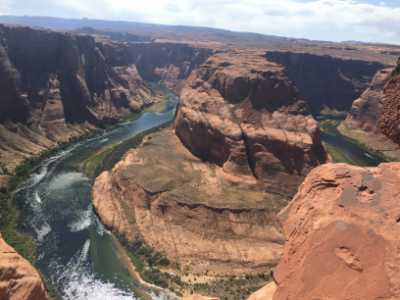 Horseshoe Bend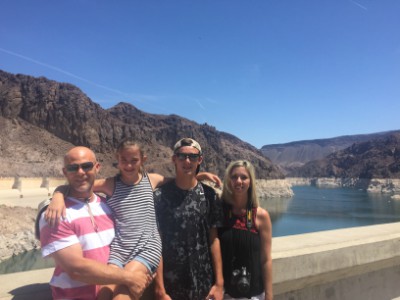 Hoover Dam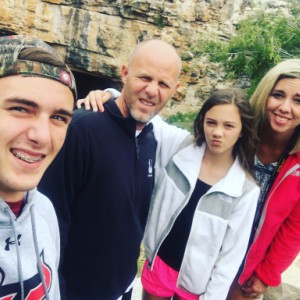 Carlsbad Caverns in New Mexico